Ginger
---
by Bea Heller, DC, MS, QME

The purpose of this article is to provide the practioner with information that can be easily explained to the patient, and will be easy for patients to use in their own healing.

Ginger is easy for patients to find and use at home. Fresh ginger root is available in most grocery stores. It can also be found powdered and dried in health food stores and herb shops, and in the spice rack of most homes. This herb is used in ginger beer, ginger ale, ginger candy, and candied ginger.
Pharmaceutical Name: zingerberis officinale rosc. Chinese Pinyin: sheng jiang = fresh ginger, gan jiang = dry ginger;1 Indian = vishwahesaj, Arabic = zanjabil, gunzabeel.
Fresh ginger (rhizoma zingiberis recens, sheng jiang), in Traditional Chinese Medicine (TCM), is classified in the warm, acrid and release the exterior category. It is said to enter the Lung, Spleen and Stomach channels.
Its actions and indications are: Release the exterior and disperse cold. This would be for exterior wind-cold patterns and acute wind-cold cough and chronic lung disorders with phlegm.
Ginger warms the middle burner (Stomach and Spleen). This would include a cold sensation of the stomach, and vomiting disorders.
It improves the immune system, especially for people who suffer from frequent colds and flu, who have sweating.2
Ginger reduces the toxicity of other herbs and overdoses from other herbs, particularly radix lateralis aconiti carmichaeli praparata (fu zi) or rhizoma pinelliae ternatae (ban xia). If numbness and swelling of the tongue or throat occur, drink fresh ginger decoction of 3-10 grams. Maximum dosage is 30 grams. It works well for seafood poisoning associated with shrimp and crabs.
Do not use with patients who have spontaneous sweating, especially yin deficiency/night sweating or in cases of chi deficiency. Fresh ginger is warm in nature, so do not use it on a long-term basis, as this may cause further heat accumulation in the body.
Ginger stimulates the stomach mucous membranes and increases stomach acid secretion and intestinal mobility. Do not use fresh ginger if a peptic ulcer is present (this may be felt as a heat sensation in the stomach).
Ginger increases heart rate, respiration rate and blood pressure. Use with caution in people with high blood pressure, rapid heartbeat and fast breathing rate. Chewing on fresh ginger in one study elevated systolic blood pressure on average by 11.2 mm Hg. and diastolic pressure by 14 mm Hg. This may be used for patients with occasional low blood pressure.3
A fresh ginger slice on acupuncture point neiguan (PC 6) relieved nausea and vomiting in 10 patients. Motion sickness may also be relieved by placing the ginger on the right for women, and on the left for men.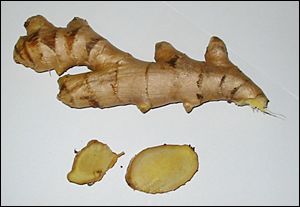 Severe vomiting and nausea associated with chemotherapy and radiation treatments were reduced with a simple tea decoction,4 made by adding 1 tablespoon of grated fresh ginger into 1 cup of boiling water. Steep for 10 to 15 minutes and strain. Do not keep boiling the tea. Add 1 teaspoon honey to sweeten. Patients new to the ginger taste may feel more comfortable with a weaker brew.
Vitiligo was successfully treated when the affected skin was rubbed three to four times daily for two to three months.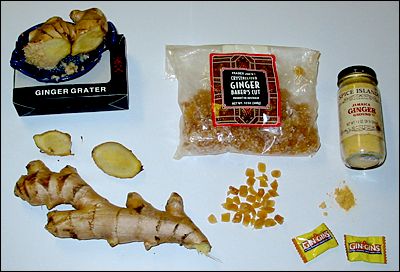 Burns, with or without blisters, were effectively treated by rubbing a cotton ball soaked with fresh ginger juice in a study of 400-500 patients. Use caution, as some burns may be too deep and require medical care.5
Reduction of edema and the promotion of urination can be done with the use of the peel of the fresh ginger root.6
Gan Jiang = Rhizoma Zingiberis Officinalis = Dry Ginger
This herb is considered acrid and hot, and is used for warming the interior of the body. (Sheng jiang is acrid and warm and used to dispel exterior wind cold, such as the early stages of a head cold).7 Dry ginger is said to enter the Heart, Lung, Spleen and Stomach channels.
Therapeutic actions include treating coldness and pain in the epigastric and abdominal areas and nausea, vomiting and diarrhea. This could be from ingesting very cold fluids or foods, or from the internal deficiency of yang of the spleen. This herb can also be used for continuous diarrhea due to spleen and kidney yang deficiency.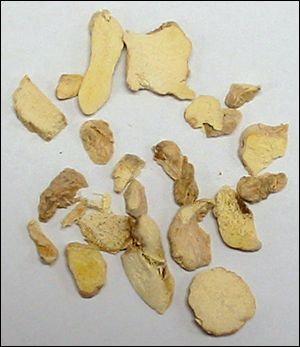 Gan jiang can be used to help restore yang in the body, along with other herbs. This can relieve cough and shortness of breath and dissolve phlegm in the lungs, decrease wheezing, decrease fluid in the lungs.
Bleeding characterized by dark blood (related to stasis - lack of motion - yang deficiency - coldness) and thin consistency may be relieved. These patients may have excessive menstrual bleeding, cold extremities, pale tongue, and a thready pulse. They may have other excessive bleeding and generally feel cold.
Be very careful with pregnant women. This herb has been associated with an abortive effect. Ginger seems like a harmless spice that works well for nausea and vomiting, making this herb tempting for women with morning sickness. Natural and herbal does not mean safe in all conditions for all people all of the time.8
Dry ginger has a protective effect by stimulating the stomach mucous membranes and increasing stomach acid secretion and intestinal mobility. This herb stimulates the central sympathetic nervous system, cardiovascular system and respiratory system.9 (Author's note ­ Be careful when suggesting this herb for people with high blood pressure and rapid heart rate, and some types of insomnia.)
Ginger compress: External application can be safe and effective for cramps, nausea and pain. Steep 2 tablespoons of ginger root or powder in 2 cups of boiled water for 15-20 minutes. Keep the decoction covered until ready to use. This keeps the aromatic oils from evaporating. Dip a clean cloth into the tonic and squeeze out the excess liquid. Apply warm to the abdomen. Reapply every 15 minutes. This tonic will bring on menses.10
Ginger lemonade: Boil 1 cup of sugar in 2 cups of water for 1 minute. Cool, then add 1/2 cup lemon or lime juice, 1 tablespoon ginger juice and 2 cups of cold water. Garnish with candied ginger. Serve over ice. Abates nausea and stimulates bile flow.11
Aromatherapy for arthritis: Dilute 5 drops of ginger in 1 ounce of carrier oil and apply locally, or combine 3 drops each of peppermint and sage with 1 drop of ginger in 1 ounce of carrier oil.12
Nausea tonic: Steep 1 tablespoon lemon grass, 1/4 inch fresh or 1/8 teaspoon powdered ginger root, 1 teaspoon chamomile flowers on 2 cups of boiled water for 15 minutes. Strain and sip 1/2 cup per day.13
Energy tonic: Simmer the following in 2 cups of water for 1 hour: 1 American ginseng root (panax quinquefolium), 1 teaspoon fenugreek seeds (trigonella foenumgraecum) and 1/4 inch slice of ginger root. Strain and drink 1/2 cup in the morning or afternoon. Do not use in inflammatory disease, for women on estrogen blockers, or for people with hypertension.14
For facial neuralgia: Make a plaster of ginger and whisky and apply.15
For premenstrual syndrome: One week prior to onset of menstruation, make a tea from ginger, green onions, fennel, black pepper and orange peel. Boil for 10 minutes. Drink three times daily.16
I recommend keeping all decoctions covered in the refrigerator. Warm to room temperature before consuming. Most teas are more effective between meals or on an empty stomach.
Also, some patients may be taking drugs that may interfere with your herbal choices. Check my Web site (http://BeaHellerDC.com) for lists of herb-drug interactions.
---
References
Benksy D, Gamble A. Chinese Herbal Medicine Materia Medica, 1993, pg 36.
Ibid, pg 52.
Ibid, pg 37.
Chen J, Chen T. Chinese Medical Herbology and Pharmacology, 2004, pg 45-46.
Ibid, pp. 45-46.
Benksy D, Gamble A. Chinese Herbal Medicine Materia Medica, 1993, pg 38.
Chen J, Chen T. Chinese Medical Herbology and Pharmacology, 2004, pg 45-46.
Ibid, pg 451.
Ibid, pg 451. Also: Benksy D, Gamble A. Chinese Herbal Medicine Materia Medica, 1993, pg 301.
Griffen J. Mother Nature's Herbal, 1997, pg 150.
Ibid, pg 191.
Ibid, pg 310.
Ibid, pg 149.
Ibid, pg 137.
Ibid, pg 128.
Ni M, McNease C. The Tao of Nutrition, 1989, pg 152.